Exclusive:

George Curry steps down; Replaced by Hazel Trice


NNPA's members are defendants in a national copyright class action lawsuit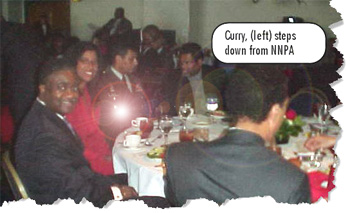 Report by DC Livers. Sources: National Writers Union, Copyright Class Action.com, AP, FindArticles.com, KeepMedia.com, GeorgeCurry.com
March 15, 2007 – Wash, DC – (BlackPressMagazine.com) – George Curry, the former editor for Emerge magazine from 1993 until June 2000, announced today that he will resign as editor-in-chief of NNPA's news service. The announcement was made during the group's annual dinner at the Hilton.
Prior to NNPA, Curry served as a Washington correspondent for the Chicago Tribune and as a reporter for the St. Louis Post-Dispatch and for two years for Sports Illustrated.
Although Curry may contribute an article to NNPA from time-to-time, Curry is most likely leaving for a shot at "Tavis" money, high paying figure speaking gigs, book deals and corporate board seats. In many ways, who could blame him but couldn't he have waited until after Black Press Week to make the announcement?
To industry insiders, it is no secret Curry and I have not always seen eye-to-eye on every issue. In particular, I've dislike the exclusive way he manages NNPA, offering assistance only to publications that pay for it. It has - at times - felt like a Black good ole boys club with membership that's always just out of reach for deserving publishers who needed help but could not afford the group's inclusion fees.
But, no matter what, I've always respected and revered George Curry. In fact, for the longest time I felt Curry was one of the most important Black journalists in the country.
I'll never forget the way he took on Clarence Thomas and helped to free imprisoned Kemba Smith. Black America had never seen reporting like that. He was unapologetically factual, and I loved it. It inspired me like few things I can remember.
One of the most memorable moments of my career was being granted an interview by Curry while writing for my college newspaper. I drove over 700 miles to do the interview at Curry's then-BET headquarters. He confided in me that he felt conflicted about not being in the trenches "writing books on influential Black leaders before they're gone." I was so in awe of his hard hitting journalistic skills, I actually had the copy of Emerge he gave me shrink wrapped and kept it for years.
But, that was a long time ago.
Over time, I grew frustrated with Curry's leadership, which seemed to put corporate desires over the needs of Black readers. A good example was during the Chrysler flap. The automaker was facing a serious class action lawsuit by Black employees but NNPA accepted whopping amounts of cash and in-kind gifts from Chrysler. It felt like his organization was allowing advertisers to buy editorial influence instead of ad space.
Writers at odds with NNPA members
Under his administration, more than half of NNPA's membership was named as defendants in one of the largest copyright class action lawsuits in the history of the country. The class action suit was brought by a group of largely White freelancer writers who alleged that their copyrights were infringed and that their work was published without compensation or their consent. Instead of alerting his readership - or membership - of important filing dates, NNPA went dark on the issue. It flat out ignored it.
In 2001, the United States Supreme Court found in Tasini vs. New York Times that freelance writers own all rights to their work, including the coveted digital rights. With digital rights publishers can reprint the articles on the Internet, on blogs, podcasts and other mediums. Although most writers only granted the publications the right to publish the work one time in print form, like a newspaper or magazine article, NNPA's news service didn't seem to care.
Publishers got greedy and began to sell the digital rights to freelancers' work to outside companies who created websites like KeepMedia.com and FindArticles.com, where hundreds of thousands of articles have been mostly illegally reprinted. The publishers got paid multiple times, but the freelancers got robbed. But in this case, the Black newspaper publishers got robbed too.
As part of their membership, the publishers were to receive access to royalty- and copyright-free articles written by freelancers through NNPA's news service, run then by Raoul Dennis, Todd Burroughs and Curry. Instead NNPA member newspapers like the Chicago Defender, Washington Informer, Precinct Reporter, and the Gary Crusader are facing a nasty lawsuit.
Curry had many opportunities to fix the copyright issue, but instead he sat back and let the publishers take the heat - and in most cases get caught off guard. His organization's rush to publish the works of thousands of Black freelance writers who never received one dime for the digitizing of their work could cause some Black owned newspapers to fold under the finanical pressure.
If it were anyone else, we could all understand but Curry is a seasoned, renowned journalist and owner of some very lucrative intellectual property. With his background in corporate media, how could NOT know?
This is hardly the George Curry I interviewed at BET or the one who kept me captivated on Sunday mornings on Lead Story. So, I hope this time away will mean a return of George Curry.
It's too way too soon to tell which way the tide will but either way you slice it, Curry's departure is another significant blow for America 's Black Press and to me.
---
DISCLAIMER: DC Livers is of one several thousand freelance writers affected by the lawsuit, although she was unaware of the class action until she was contacted by the lawyers representing the writers. Among others, her article on the resignation of then FCC chairman William Kennard was published in print and online by over 200 NNPA's member newspapers, websites and then sold to the archive companies like KeepMedia.com and FindArticles.com. After their investigation, the National Writers Union, which was one of the lead plaintiff's in the Tasini suit, determined that NNPA's violation cost Livers about $100,000 in lost revenue. Livers has opted out of the lawsuit. Instead, she chose to work individually with the publishers like Indianapolis Recorder, Seattle Skanner and Precinct Reporter to resolve the issue. At press time, none of the publishers have compensated her. She may be forced to pursue the issue if settlements are not reached soon.
---
Top Editors resign during Black Press Week
Can the Black Press Compete with Corporate Journalism?
In the same week, Chicago Defender 's top editor, Roland Martin, jumped ship for a spot at Cable News Network. He took office in July 2004. Although Black Press Magazine was granted an interview with Martin, he did not return our call. Martin's departure leaves the 101-year-old newspaper is a state of flux.
In recent years, staffing the Chicago Defender has proven particularly dicing in recent years. Prior to Martin, media veteran Pearl Stewart was tapped to run the publication but left after just three months stating, "I wanted a challenge but not this much of a challenge." The replacement of Martin will be one the publications' most critical decisions in recent years.
---
ABOUT THE COPYRIGHT CLASS ACTION
Update: The appeal from the court's Order of September 2005 approving the settlement of this class action. Oral argument was held on March 7, 2007. Michael Boni argued for plaintiffs and the Class, Charles Sims argued for the defendants and Charles Chalmers argued for the objectors. We cannot predict how the panel will rule, or when. It is not unusual for Courts of Appeal to rule 6-9 months after the oral argument, or even longer. Please check this page periodically for any updates.
Find out if you're affected by the Copyright Class Action lawsuit.
---
Related: Thousands of Black Writers involved in copyright class action lawsuit
Black Press to host Pod-A-Palooza podcast conference
Roladn Martin leaves Chicago Defender for CNN
Pod-A-Palooza podcast conference to teach minorities of the art of podcasting
Black Academic Olympics set for September 15, 2007 in Washington, DC