BREAKING NEWS: Black Press Week Corporate Luncheon: Celebrate the 180th Anniversary of America's Black Press by attending the Black Press Week Corporate Luncheon on Friday, March 16, 2007. Read more
Welcome to the Historical Black Press Foundation, the largest online portal for information on Black newspapers, Black magazines and Black media. HBPF fosters dialogue between the mainstream media and minority news organizations, executives, Black authors and professionals. In addition to providing professional development, HBPF gives exposure minority media executives, professionals and companies committed to diversity. We also publish Black Press Magazine, the nation's only publication dedicated to covering Black media news and Black media professionals. We also operate the Black Press Diversity Career Center. The Black Press Yearbook is the first national directory of over 400 Black publications.
Self Publishing Bootcamp: Everything You Need to Know about Black Media Publishing. May 18, 2007 in Washington, DC. Network. Get free publications and samples. $45.00 per person before April 1, 2007. Request information now. $60.00 after the Early Bird special deadline.
MEMBERSHIP with Historical Black Press Foundation
The Web site will be updated often, but most content will not be available to the public. HBPF membership is required to gain full access to this site beginning April 1, 2007. No other Black news site online offers as much for the minority media as we do, so join us today. Membership is just $75 per year. Add this page of the Historical Black Press Foundation on your Bookmark menu now.
Black Press is now available in RSS and on MySpace
We recently opened MySpace.com/BlackPress where you'll also get more exclusive content just for us. Visit our MySpace account today at Myspace.com/blackpress
New Phone Numbers for Black Press: NEW phone numbers will replace the old 646-322-3047:
Los Angeles, California and all West Coast callers: 310-734-8322
Chicago and all Midwest callers: 312-324-3909
New York City and all East Coast* callers: 347-756-5801
Washington, DC and surrounding Metro area callers: 301-637-2864 * Except for the DC metro area
Email: [email protected]
Copyright 2006 Historical Black Press Foundation. All Rights Reserved.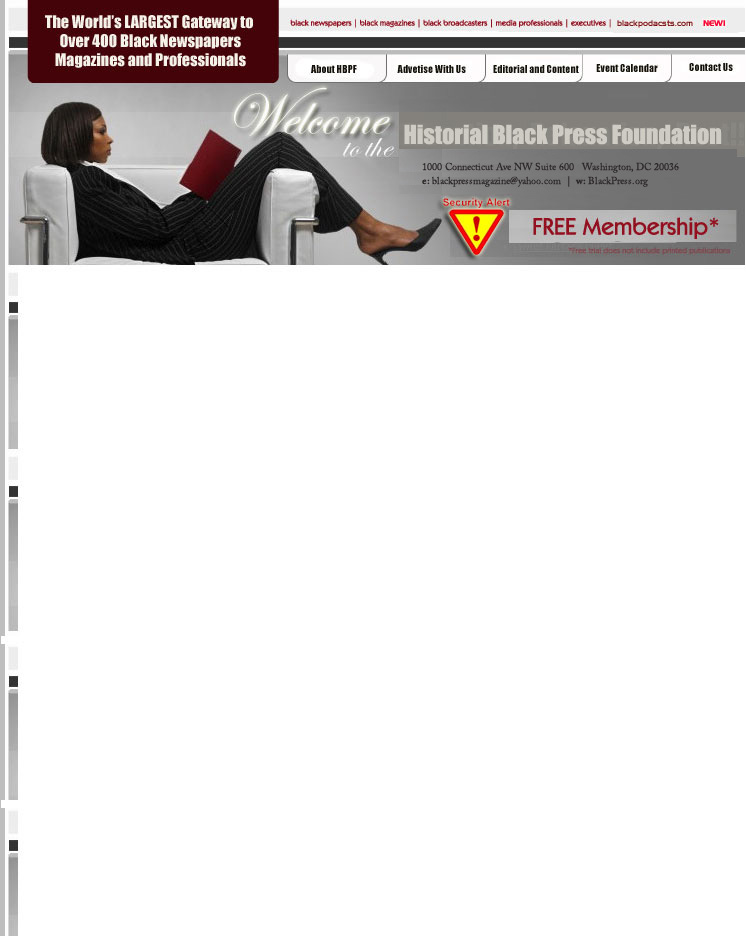 Black press black magazines, black newspapers, black media, black press, NNPA, george curry, DC Livers, Black press black magazines, black newspapers, black media, black press, NNPA, george curry, DC Livers, Black press black magazines, black newspapers, black media, black press, NNPA, george curry, DC Livers, Black press black magazines, black newspapers, black media, black press, NNPA, george curry, DC Livers, Black press black magazines, black newspapers, black media, black press, NNPA, george curry, DC Livers, Black press black magazines, black newspapers, black media, black press, NNPA, george curry, DC Livers, Black press black magazines, black newspapers, black media, black press, NNPA, george curry, DC Livers, Black press black magazines, black newspapers, black media, black press, NNPA, george curry, DC Livers, Black press black magazines, black newspapers, black media, black press, NNPA, george curry, DC Livers, Black press black magazines, black newspapers, black media, black press, NNPA, george curry, DC Livers, Black press black magazines, black newspapers, black media, black press, NNPA, george curry, DC Livers, Black press black magazines, black newspapers, black media, black press, NNPA, george curry, DC Livers, Black press black magazines, black newspapers, black media, black press, NNPA, george curry, DC Livers, Black press black magazines, black newspapers, black media, black press, NNPA, george curry, DC Livers, Black press black magazines, black newspapers, black media, black press, NNPA, george curry, DC Livers,