---

View the Who's Who in Black Media Reception Wrap-up now. Hear her podcast at BlackPressRadio.com (keyword: Victoria Rowell)
News: DC Livers invited to set of Young & Restless. Meet the cast beginning November 15.
---

Wash, DC – (BlackPressMagazine.com) – For past 14 years, the nearly 15 million daily viewers of The Young and the Restless have come to know Victoria Rowell as Drucilla Barber Winters, "a cool, collected beauty who has it all: an exclusive, cosmetics-company contract, a dream lifestyle and even dreamier hubby," according to Black Enterprise magazine.
Black Press Magazine conducted an exclusive interview with Rowell on two separate occasions. Below are excerpts from the interviews. Listen to the podcast interview with Rowell exclusively at BlackPressRadio.com.
Victoria Rowell: Why I left Young & the Restless (Interview One)
With her days as Drucilla over, Victoria Rowell is preparing for her breakout year.
Although her character was "killed" off Young & the Restless" early this month, Rowell, 41, told Black Press Magazine that the relationship was dying long before that.
"We have the most popular daytime show and the number one show for African Americans, hands down. Yet, there are no Black writers. There are no Black producers. There are no Black directors. There are no Black make up artists. There are no Black hairstylists," said Rowell. "I had to bring in my own clothes and rewrite my script to make it work," said the NAACP Image Award winning actress.
Rowell believes she was shut out of many opportunities in daytime because she stood up for women of color.
"I was frozen out [of the Emmys]," said Victoria Rowell. "There is a disparity. I have 11 NAACP [Image Awards] and no Emmys. My reason to resign, my contract is not over, I'm resigning. I've been on the show for 14 years, but I was told I couldn't represent the show in Canne. I cannot be a writer for the show, but they have been using my writing to tweak the scripts for years, because there's no Black writer to write my character."
" I have been working as hard behind the camera as well as in front of the camera. I went to Primedia in New York. They publish both daytime magazines. I did a scientific study on the publications, Soap Weekly and Soap Digest," she said. "There are 52 issues in a year - that's 104 issues. I did a two and a half year study, at my own expense, to show that African Americans were given zero to four covers a year. Out of 104 covers," Rowell said.
"I went to Madison Avenue and asked how they could help me bring about change, but I was met with tremendous resistance on all fronts," she said. "After asking again and again, I managed to get more covers than ever in the history of daytime television for African Americans. "But, I've grown tired of fighting them on every little thing. It's a shame but I don't see much hope for change."
"I mean, Debbie Morgan won the Emmy, but do you realize the last African American to win the Emmy had to struggle to get on the cover for daytime magazine. It's just one of the reasons I'm leaving," she said.
New Beginning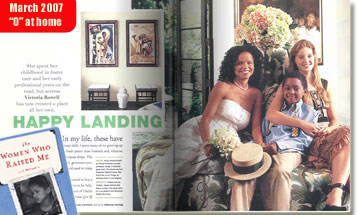 Rowell says that she's ready for bigger things including trying her hand at interior design and continuing her passion of working with adopted children.
"I'm excited about the future, but I want to give a shout out to Oprah," said Rowell, who was adopted and grew up on a farm in Maine. "She has really been there for me. Oprah knew how much I love interior design, that's kinda been my thing. She gave me a huge spread in the March 2007 issue of Oprah's "O" At Home magazine. I'm pictured with my kids and in our home. I just love that she gave me that chance to shine," Rowell said.
"I'm putting the energy into another venue - into my new book, "The Women Who Raised Me" on the HarperCollins imprint. This is very important to me," she said.
Born in Portland, Maine, Rowell was raised in foster care for her entire childhood. Under the auspices of the Ford Foundation, she received a full scholarship to the Cambridge School of Ballet in Massachusetts at the mere age of eight-years-old. The young dancer flourished there and became a member of the American Ballet Theater family. In addition, she participated in an exchange program with the Julliard School of Music & Dance program.
"I grew up as a farmer in Maine. I was foster care child and I tell you, it's hard living," said Rowell. "I mean, it's really tough but to do it as a child is even tougher. But, it really prepared me for the rest of my life."
Rowell made the transition into acting from classical dance when she was in her late 20's. Bill Cosby was so impressed by the young actress after seeing her in an audition that he cast her as his daughter in his feature comedy "Leonard Part VI" where she made her film debut. She also had a recurring role on "The Cosby Show."
In 1990, Rowell started a foundation, The Rowell Foundation for Positive Change, to help address issues related to foster care children which features a High Tea at Noon sponsored by Nissan. The tea gives young girls a chance to learn another way of life. RFCPP is a non-profit organization. For over a decade RFCPP has provided the means for foster children to fulfill their limitless potential through involvement in fine arts, sports, and the provision of job opportunities.
---
In related news...
Over 300,000 listeners for BlackPressRadio.com
Black Wax Museum: It's a new day
Dick Gregory celebrates his 75th birthday podcast now available on YouTube. To find out more visit http://www.youtube.com/blackpress
Dr. Dorothy Height celebrates her 95th birthday podcast series on BlackPressRadio.com (Keyword: Height)
DC Livers will hold a Start Your Own Hip Hop Publication Workshop on Friday, December 8, 2007 in New York City.
Black Press Magazine has also interviewed Carl West for the State of Hip Hop: The Podcast and filmmaker Camille Holder Brown, a former Spike Lee intern who recently won the Paul Robeson Award and Janaya Black who was one of the original members of BET's Teen Summit Posse as part of its series on hip hop film and entertainment.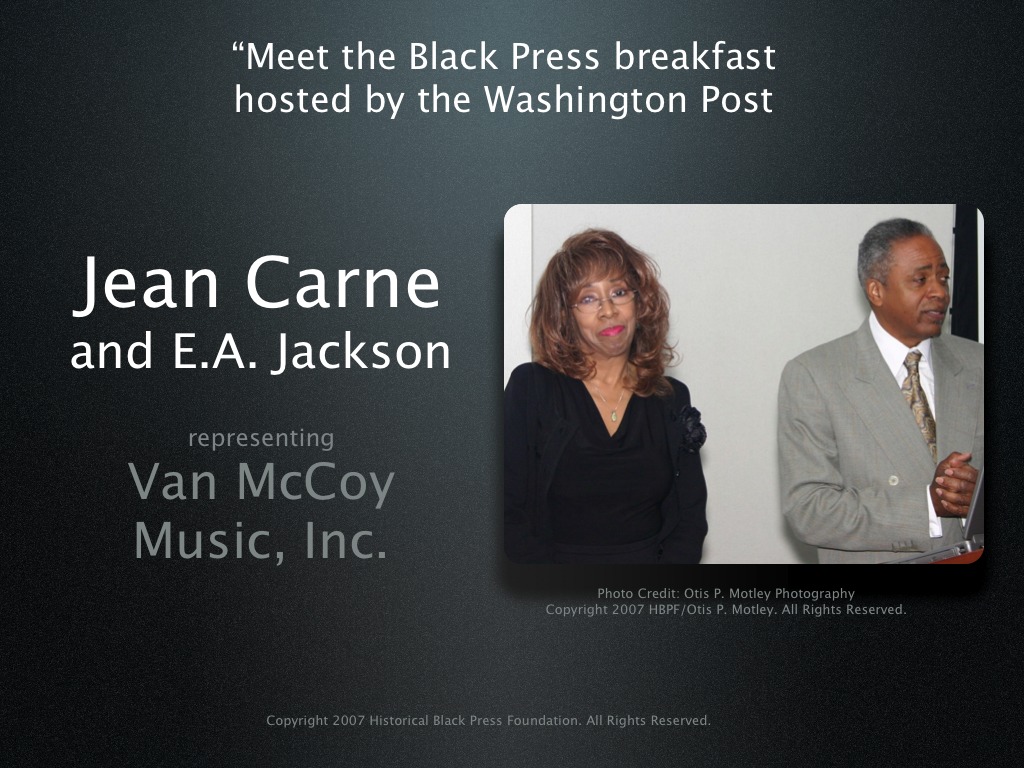 LISTEN to the podcasts from the Hip Hop Journalism Summit and Black Press All Star Awards
Black Press will conduct pre-, during and post-event podcast interviews, write articles from the 3rd Annual Black Press All Star Awards event were held on Sept. 14-15, 2007 and help promote the event as part of the media sponsorship commitment. The 4th annual Black Press All Star Awards is currently accepting application for individuals who want to be apart of the panels, sponsorship list or judging selection committee to help determine the winners among the submissions comprised of newspapers, magazines, websites, publicists, authors and others in the Black media industry. The event will be Sept. 19-20, 2008. To be considered, send your bio, weblink and photo to [email protected]

EXCLUSIVE: View the 3rd Annual Black Press All Stars Wrap-up now
---
Be the first to know: Stay tuned to Black Press Magazine for updates on in hip hop media. Become a member of the Historical Black Press Foundation or subscribe to our blog to be the first to know what's going on in Black media.
ctoria Rowell Victoria Rowell Victoria Rowell Victoria Rowell Victoria Rowell Victoria Rowell Victoria Rowell Victoria Rowell Victoria Rowell Victoria Rowell Victoria Rowell Victoria Rowell Victoria Rowell Victoria Rowell Victoria Rowell Victoria Rowell Victoria Rowell Victoria Rowell Victoria Rowell Victoria Rowell Victoria Rowell Victoria Rowell Victoria Rowell Victoria Rowell Victoria Rowell Victoria Rowell Victoria Rowell Victoria Rowell Victoria Rowell Victoria Rowell Victoria Rowell

Home
|
Events
|
Contact Us
|
© 2000-2007 Historical Black Press Foundation. All Rights Reserved