Exclusive:

BET co-founder Dr. Sheila Johnson: "I'm finished with BET"


Co-founder asks students to raise the bar and fix the low image of Black media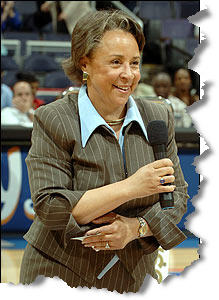 April 6 , 2007 – Wash, DC – (BlackPressMagazine.com) – Although normally silent, Dr. Sheila C. Johnson, co-founder of Black Entertainment Television is ready to talk.
Johnson, who was wearing colors of the same hue, made it clear that she's ready to live her life like its golden.
"I'm finished with BET," the 54-year-old owner of the Washington Mystics.
"In all those years that we struggled to make BET work, I thought it was very important that we needed to have a voice out there," she said. "That's what really kept us going. I think, for African Americans throughout this country to continue to become entrepreneurs to set up businesses, especially in the media industry."
Her surprising remarks were made on April 6 during her acceptance speech after she was presented with the Global Visionaries Award from the John Johnson School of Communications, which is located on the campus of Howard University in Washington, DC. Her comments were received well by the group of about 200 alumni, faculty and students from the university who gathered to celebrate her work as a pioneer in media, sports and hospitality.
"As BET was going along, the one thing my heart was really in – and that really troubled me – was I wanted to make sure that our young people were really receiving the right message," said Johnson. "That's when I decided to do "Teen Summit" because, you know, there was the birth of music videos that were going on."
"Videos where great when they first came out," said Johnson. "I mean, I even loved watching them. I'm not attacking the ones that are out now, but I'm really troubled by it. I'm really troubled by it," she said.
Johnson could be referring to BET programs like the now defunct "BET Uncut" that provided soft porn set to today's most popular music. Or she could be discussing the disturbing trend of pimping Black women in scantily clad clothing that is prevalent on magazine covers in publications like XXL and Smooth magazines or on in videos on the network that she co-founded in 1980 with then husband, Robert, and funder John Malone.
Many Black oriented media outlets are calling for an end to the exploitation of Black women in music videos and magazine covers in an effort to redefine the image of Black women to the younger generation.
"That's why I started [the TV program] "Teen Summit," which won every award in the book," she said. "It was professionally funded by the Kaiser Foundation because BET wanted to take Teen Summit off the air. We were successful in reaching young people. Still to this day, there are still young people that come up to me and say, "Thank you for Teen Summit. You were the one person that really listened to us."
A new beginning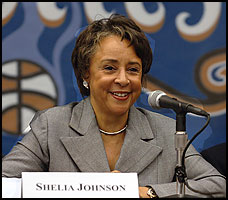 "Of course we sold it to Viacom for that wonderful $3 billion," she said. "I'm glad about that because now it's given me the ability to really reach out and redefine myself," Johnson said.
Johnson acknowledges the BET had its place in history and she accepted the fact that she will be forever linked to the station. But, she says, it's a new day and she's not looking back.
"BET was one journey, but I am finished with BET," said Johnson.
"I stepped back for two years to get a hold of myself, reinvent myself, and to find out who I truly was, because I was always the person behind the scenes," she said. "I did a lot of work, but I had to make sure that I could reconnect with who I truly was in order to get my own power back.
"Through that time, when I stepped back and got myself right with God, I was able to really rediscover where I wanted to go and the journey that I wanted to head for. But one thing I did realize is that it was time to start giving back. It was time to the community, especially those young people that I try to influence and edge on.
"For all those young people who are out there, I want you to remember that you are powerful and that you are going to make a difference in the lives of many people because the media is a very powerful force," Johnson said. "The media has dropped the bar so low that I am counting on all of you now to pick it up. Start raising that bar because we have a lot of young people out there falling through the cracks that watch the media, who watch celebrities, who watch sports figure in which they try to emulate what they see on television cause they have nothing else in their lives," she said.
Johnson has just been named Global Ambassador for Care International. The purpose is to inspire young women, domestically and globally. She hopes to use the platform to make major changes in the lives of people of color on a domestic and international level. It should fit in well with her diverse background that includes being an accomplished violinist and spending over 19 years as a music educator in the Washington, D.C., area.
LISTEN to related podcasts at BlackPodcasts.com
---
The program included media veterans:
Stan Verrett - Anchor, ESPN SportsCenter was Master of Ceremony
Robin Roberts - Anchor, Good Morning America was Keynote Speaker
Dr. Sheila Johnson - Owner, Washington Mystics, BET co-founder
About the Event:
What made it special?
From the sexy Howard communication student escorts to the wine (including my breathtaking escort Matthew from Jamaica) and silent auction, this luncheon was beautiful from start to finish. Hosted by Howard alumnus Stan Verrett, anchor of ESPN's SportsCenter, the event also honored Robin Roberts, co-anchor of ABC's Good Morning America, who delivered the keynote speech. Special appearances were made by R&B sensation, Nancy Wilson and National Urban League President Marc Morial, former mayor of New Orleans. Pearls were given to about a dozen students in a special journalism program. 100 gift bags were given out from one of the nation's leading pearl manufacturers. A special 20 page program entitled, "Pioneering Pearls, honoring Dr. Sheila Johnson" was provided.
Menu
Gold Godiva chocolate boxes were on every table and a delicious grape tea was served.

First course
Gingered shrimp and mango salad with Japanese Uzu dressing

Second course
Slice beef filet with ancho lime aioli
Maryland crab cake
Chateau potatoes
Seasonal vegetable medley
Dessert
Chocolate bombe cake with raspberry sorbet
What was in the coveted gift bags?
Bag One sponsored by Maybelline: The well made bag was white with blue lettering that read "Maybelline New York) and had very sturdy handles. Inside were Hanes' new "perfect panty", Maybelline Dream Matte Mousse Foundation, Maybelline "express finish" advanced wear nail polish in the new shade of "Raisin Run", Maybelline "forever strong + iron" nail polish in the shade of "Timeless Taupe" and a full size tube of Mary Kay's "satin hands" lotion from their "private spa collection."
Bag Two sponsored by HBO: The beautiful gym bag with the HBO embroidered logo held lots of goodies including: the April 2007 issue of Essence Magazine with Terrence Howard on the cover, Hanes Casual Cushion ankle socks (three pack in multiple colors), DVD of "Premium" starring Eva Pigford, Harper Hill and Zoë Saldana, the DVD of "Preaching to the Choir" starring Tichina Arnold, Patti LaBelle and Adewale Akinnouoye-Agbaje ("Adabisi" on OZ), books The Legend of Quito Road by Dwight Fryer and Indigo Summer by Monica McKayhan.
---
Related: BET Spring Bling hosts Terrence J and Rocsi give us the scoop
Michael Lewellen: Why I left BET interview and podcast
Thousands of Black Writers involved in copyright class action lawsuit
Pod-A-Palooza podcast conference will teach minorities the art of podcasting
Black Press All Star Awards set for September 15, 2007 in Washington, DC